MANY PEOPLE HAVE ALREADY EXPERIENCED THE FORTUNES THAT THE GODWARS DUNGOEN HOLDS.YOU CAN EARN UP TO 300M IN 10 MINUTES(ALCHING, NOT PLAYER SOLD).THERE IS ONLY 1 THING YOU HAVE TO LOOK OUT FOR........GWD PKERS.
THEY COME AT YOU OUT OF NOWHERE AND START ATKING YOU.AHHHH!!!!!!!!!!
TIPS:
1:BRING FOOD ALWAYS.ALSO TRY TO BRING SNARE OR BLITZ/BARRAGE RUNES FOR QUICK ESCAPES
2:ALWAYS BE ON THE LOOKOUT
3:STAY AWAY FROM ALOT OF PEOPLE.
4:BE PREPARED TO FIGHT YOURSELF
5:REMEMBER ITS 1V1, SO STAY CALM.
HOW TO BE SUCCESSFUL:
THERE ARE 4 CHAMBERS TO THE GWD.
ZAMAROK,SARADOMIN,ARMDYL, AND BANDOS.
PICTURE WILL COME LATER.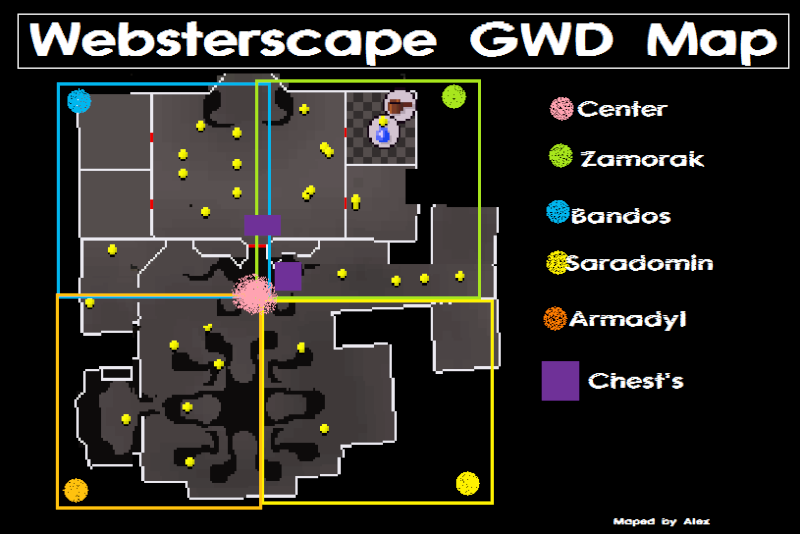 WHEN YOU FIRST COME IN......YOU WILL SEE 2 CHEST....ONE IS THE SOUTHERN CHEST WHICH IS SUGGESTED TO BE USED ON THE SARADON AND ZAMORAK CHAMBERS, THEN THE NORTHERN CHEST IS FRO ARMADYL AND BANDOS.WHEN YOU GO TO A CERTAIN CHAMBER, YOU KILL MONSTER TO OBTAIN THE CHAMBER'S MAIN KEY WHICH YOU USE ON THE CHEST TO UNLOCK A PRIZE.
LEARNING ON HOW TO DO THIS DUNGEON CAN BE A BREEZE AND CAN GET YOU RICH IN SECONDS.
GENERAL BOSS'S DROPS-
zamarok-void knight bottom/other random things
saradomin-void knight top/other random things
armdyl-void gloves/other random things
bandos-void gloves/other random things
General bosses are the main bosses which have the best drops and have chance in getting the rare void armor.They also drop the key the fastest.
Have fun in this huge dungoen and remember...dont get pked.