OKAY IM CREATING AN OBSIDIAN LOG FROM MARCH 20TH-??
IT WILL INCLUDE PICTURES,DATES, OF DROP, AND TIME.
IT WILL ALSO HAVE ESTIMATED KILLS.
ABOUT MYSELF:
I AM A ZERKER PURE ON MARCH 20TH(WILL CHANGE SOON)
I LIKE TO BARROW AND KILL OBBY PEOPLE ALOTTTTTT.
I HAVE OVER 1K OBBY KILLS SO FAR AND GOTTEN ABOUT 6 DROPS.THESE INCLUDE SHIELDS AND MAULS AND A KNIFE.
I LOVE OBBY KILLING, BUT SOMEITME IT CAN TAKE FOREVER.ENJOY MY LOG AS IT GET SUPER HUGE.THX AND BYE
1ST DROP
6:55 P.M. MARCH 20TH
A OBSIDIAN MAUL-195K
ESTIMATED KILLS FROM TZHARR-KET(149)-45 KILLS
2nd dr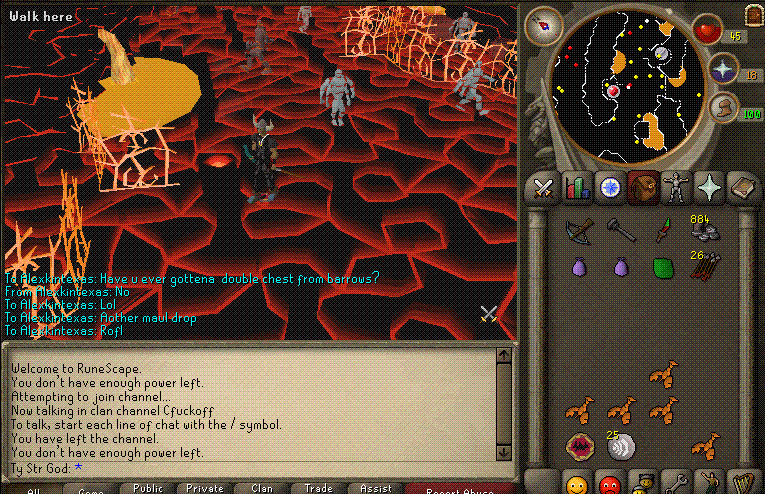 op
1:44 pm March 23th
A obsidian maul-193k
Eastimated kill from tzharr-ket(149)-100+ kills
3RD DROP
3:14 PM MARCH 23TH
A OBSIDIAN MAUL-193K
THIS IS MY 3RD ONE INA ROW.CMON A SHIELD OR CAPE WOULD BE NICE

ESTIMATED KILL FROM TZHARR-KET(149)-50 KILLS
4TH DROP
'
7:25 PM MARCH 25TH
A OBSIDIAN MAUL-200K
THIS IS MY 4TH ONE JEEZ.OMFG.GIVE ME SOMEHTING ELSE FOR ONCE.LOL JKING.NEVER COMPLAIN ABOUT DROPS OR YOU WONT GET ANY :p
ESTIMATED KILL FROM TZHARR KET(149)-10 KILLS